A Letter To The World,
Apr 15
Dear adults with terrible grammar/spelling etc.,
I've been waiting for you. Trying to pick the exact words and thoughts I would use to point out how much I dislike you. You've been coasting through life, thinking it's okay to write things like "imparticular" (which is actually the two words "in" and "particular"), "grammer" (which you can see correctly above and actually makes me laugh when I see it) and, ironically, "knowlege" (which I really shouldn't have to explain, but it's "knowleDge"). So, here we go, kids! It's time for a little grammar and spelling lesson/make you feel bad about yourself-fest!  
Odds are, if you're reading this, we know each other somehow and went through the same type of school system. Seeing as that is the case, I shouldn't be that much further (not farther) ahead of you, unless you're a ruh-tard. I'm not going to go over everything. I can understand uncertainty in the use of commas, semi-colons and the like. What I am going to cover is the simplest of the simple. The things that, when I see them, kinda make me want to slap you in the face with a judge's gavel. So, let's just go ahead and start with one of the biggest culprits of all (to be followed by an equally bad counterpart…these are really "1" and "1a"):
Sound it out in YOUR head, if YOU'RE not sure. If the sentence YOU'RE trying to write contains a "you are", then you definitely want to go with "YOU'RE". If the sentence doesn't say "you are", then go ahead and knock yourself out with "YOUR". There are only two versions of the word. As the picture says, IT IS NOT THAT FUCKING HARD! I can guarantee you'd spend more time thinking about what shoes to wear for night out, than figuring out which of these two words to use properly.
Next we have the "1a" of the grammar/spelling food chain. If the "You're/Your" madness wasn't bad enough, try throwing an extra version of the same pronunciation on the fire. That's right. We now have THREE to sift through! OOoooOOOOOOooooooo!!! So, hold on to your butts because it's time for:
So much to remember, right?! I mean "there" denotes a location, "their" is possessive and "they're" is just smashing two words together! How am I supposed to remember all this? Who am I, Noah Webster (yeah, the dictionary guy)? No, obviously, you're not. You're not even one of the Merriam brothers (yeah, the other name on the dictionary). Luckily, you really don't have to be. Watch this: "There is the car" (location), "That is their car" (possessive) and "They're getting a car" (they are). It takes about as much thought as remembering to wipe your ass when you're done taking a poo.
Let's do one more. I'm not going to delve into the differences between "effect" and "affect". I'm not even going to do "except" and "accept". Those are relatively acceptable in the grand scheme. You know what isn't acceptable? This:
I'm not even going to bother going more into it. I think the picture does an amazing job. The panda even shows what I'd like to do, when I see any of the things we've discussed here.
These next few pictures are fantastic. They're cautionary tales, but mostly they're just hilarious. Nowhere, and I mean NOWHERE, is spelling more important than when you're holding a large sign in order to make a point.
You always want to point out someone else's incompetnce by displaying plenty of your own competnce.
Because you honestly can't expect me to teach them all that stuff AND how to not proofread their large protest signs!
Fun/frightening fact: This guy is allowed to freely roam the earth. Unfortunately, he is not Kenny Powers.
Remember kids; "I" before "E" except after "C" 
If you look closely, you'll see that we've come full circle. Miss Lady in Red should have read lesson one.
I can't stress this enough. Spelling and grammar are important. You're looked up to, when you have a command of the English language. ur loked @ lyke adummy wen u do shyt lik th!s. Obviously, the bad spelling is intentional in a case like that. However, I (and not just me) think you're doing it because you couldn't spell correctly, even if you wanted to (a.k.a. you're not that bright). There is a major difference between a typo and a lack of intelligence. Take a good look at yourself. From which of those two categories do your mistakes come? Maybe your keyboard is sticky. Maybe you've got fat fingers. Maybe you just don't type that well. BUT, if it's not any of those things, do you really want to continue making the mistakes a 1st grader would correct you on? If you have kids, and they need your help in writing the simplest of sentences, don't you want to know how? We all crave knowledge. It's as basic and primitive as our sexual desires. Please, for everyone involved, go feed that craving.
Sincerely,
Jeremy T. Bennett
Mar 29
Dear reality shows (and the people who watch them) Part 2,
Allow me to apologize for the delay in bringing you this newest letter. Every time I sat down to write it, I had to remove myself before breaking out into an expletive-laden tirade. Having said that…
Alright folks. Let's just jump right into it. In my previous letter, I briefly explained to you how "reality" television is a virus plaguing America. I ended up going off on a tangent about celebrity/star shows. I didn't really mean to have that happen, but it did, so we're just gonna have to live with it. Now, let's take a look into the world that is "reality" television.
We'll start with the grand-daddy of them all, "The Real World." Inexplicably, this show is entering it's 24th season as they return to New Orleans. "This is the true (the definition of 'true' being stretched to it's max) story of seven (relatively gorgeous) strangers…picked to live in a (decked out party pad and/or Las Vegas penthouse) house…work (a job people would kill for) together and have their lives taped…to find out what happens…when people stop being polite (none of the people have shown a single sign of politeness in their lives)…and start getting real (a.k.a. party it up and freely trade STD's). A show of hands from those of you who have this as their definition of "real." Come on. Don't be shy. No one? That's right. This show hasn't had even the slightest guise of realism since the first couple of seasons. Even if you wanted to lie to yourself for a while, that gets shattered once they hit Las Vegas and stay in a $10,000 per night (yes, that's correct) suite at The Palms. I could go on and on about this miserable excuse for entertainment. Stop watching it so the producers will stop producing it!
This just makes me want to puke. "Teen Mom" is a spin-off (that's right…a SPIN-OFF!!) of another puke-worthy show by the name of "16 and Pregnant." Both of these shows would like to have you believe that they're real documentaries about the lives of stupid kids that have made bad decisions. However, they're actually quite scripted documentaries about the lives of stupid kids that have made bad decisions. If you've watched any of it, like I did in preparation of writing this, it's painfully obvious. Putting that part aside for now, what I can't get past is the glorification of complete irresponsibility. Not only of the kids, but that of the parents as well. This show should be banned from the airwaves, as it is completely void of even the slightest amount of encumbrance. At some point, a conversation took place between a television producer and a pregnant teenager, in which they were convinced to display (and I assume be paid for) the miserable choices they've made in life. I would also guess that a parent was present and also signed off on this. Would you let your child do this? No. Then why are you watching it happen to someone else? Stop.
I intended to tackle one or two more programs here, but instead I think I'll talk about something a bit more important to me. Creativity. The reason that we have movies and television is because brilliant, inventive and deviceful people put their thoughts to paper and brought them to us. The masses. Those who truly want to be entertained by a thrilling, funny, frightening or heart-warming story. Over the last 15 or so years, though, you've been deceived into thinking that "real" stories are worthy of our attention. Some of us criticize even the slightest slip in our favorite (written) television series and watch as though "real" shows are nothing short of perfection. But, if you look, they're being written too. The only difference is that these writers are not brilliant, inventive or deviceful, but simply lazy. That's where I have a problem and you should too.
We need to encourage and nurture genuine ingenuity. Shows like "Arrested Development" and "Pushing Daisies" were canceled and the season finale of "Jersey Shore" broke ratings records for MTV, drawing in almost 5 million viewers. You chose to gawk at a 5-car pileup instead of checking out the rainbow that was right behind you. Enough is enough. I beg you to stop tuning into MTV (anyone remember when the "M" stood for music?) and watch something that took real, honest work to entertain you. Challenge your mind and your emotions. And, if you're getting that from "Jon & Kate" or basically anything produced by MTV, VH1 or TLC, I invite you to find the nearest hammer and give yourself one good smack with it. Who knows? Maybe it'll open your eyes.
Sincerely,
Jeremy T. Bennett
Mar 25
Dear reality shows (and the people who watch them) Part 1,
Stop. All of you. Producers of the shows and viewers, please stop. This is not quality entertainment. It's not real by any stretch of the imagination and some of it is even PAINfully scripted. Over my next couple of blogs, we'll take a look at some of the most popular reality shows out there and how they're slowly breaking down the fabric of America. Competition shows such as Survivor (which I was amazed to find out was still on the air), The Amazing race, American Idol and "celebrity" shows will be exempt. However, we will be taking a quick look at the problem that shows with "stars" have right now.
There aren't many stars! Celebrity/star based shows must either find real stars, or change their names. Allow me to run down a little list of "stars" based on their respective shows. My loose requirement for stardom or celebrity here, is being somewhat easily recognizable by name and face. But mostly it's fairly random. 
From the seasons of "Dancing with the Stars" we have; Pam Anderson, Chad Ochocinco (who you probably wouldn't know if you're not a football fan), Joey Lawrence (come on), Floyd Mayweather Jr., Denise Richards, Shawn Johnson (the gymnast from the 2000 Olympics in case you forgot, which many of you might have done) and, the biggest star, Kim Kardashian. I won't argue her celebrity status, even though I have no earthly idea how she managed to attain it. On the other side of the coin; we've got the chairman from "Iron Chef America" (yeah, you don't know his name either), Jefferson D'Arcy from "Married with Children", Kenny Mayne from ESPN, Cliff from "Cheers" and, even though she's recognizable, Kate Gosselin is BY NO MEANS a star. Unless, of course, "star" means "stupid, attention grubbing whore."
From the most poorly named show ever, "I'm A Celebrity. Get Me Out Of Here!", we have (are you ready?); Lou Diamond Phillips, Tyson Beckford and two of the Baldwins that are not Alec. The end. Not quite making the requirements that should've been held for this show are; Patti Blagojevic (the wife of a dude who is also NOT a star), Frances Callier and Angela V. Shelton (these women form a comedy duo called "Frangela" which you may, but probably don't, remember from any of the "I Love The _____" on VH1) and John Melendez (better known as Stuttering John from "The Howard Stern Show").
You're off to a bad start when the biggest celebrity on the show is Donald Trump. I almost feel like he's trying to keep it that way, which would kinda make sense. There have been three seasons of the celebrity version of "The Apprentice" and heeeerrrrrre weeeee go! Your biggest stars are; Gene Simmons, Trace Adkins (unless you don't listen to country music), Brian McKnight (unless you don't listen to R&B music), Khloe Kardashian and Bret Michaels. It pained me to include those last two names. Now, let's turn the page to the people who REALLY don't have any reasonable semblance of stardom; Piers Morgan (who?), Omarosa (she got her celebrity status by BEING on "The Apprentice"…what kind of weird kind of cosmic whirlpool is that?), Marilu Henner (from "Taxi" which is a sitcom that ran for five years, for those of you who are unaware), Jennie Finch (a softball player…let me repeat that…a SOFTBALL PLAYER), Claudia Jordan (one of the case girls from "Deal or No Deal"…come on) and Maria Kanellis (unless you're REALLY a wrestling fan, you'd never know). There are a good ten more I could go on with but I'm going to stop it right here, as my trigger finger is beginning to itch.
Now, I don't think there's anything wrong with watching these shows so the "(and the people who watch them)" part of this blog's title does not really apply. That will come tomorrow. The problem is the false premise of all of these shows. If you want to watch real stars and celebrities, I painfully encourage you to tune to NBC, Thursday nights at 10:00, and watch "The Marriage Ref". In four shows, they've had Alec Baldwin, Jerry Seinfeld, Larry David, Madonna, Ricky Gervais, Jason Alexander, Cedric The Entertainer, Martha Stewart, Kelly Ripa, Eva Longoria and Tina Fey. Notice I didn't feel the need to explain who any of these people are. These are celebrities. These are stars. However, when someone becomes a celebrity, by being on the non-celebrity version of your show, you're now toying with the immutable laws of physics. I'm waiting for a Stargate to open on the set and suck everyone into a parallel dimension. THAT would be something to watch!
Sincerely,
Jeremy T. Bennett
P.S. Come back tomorrow for Part 2. We're going to look at the likes of "Real World" and basically all the other garbage on MTV.
Mar 22
Dear parents who take their children to bars,
Very sneaky. You almost slipped right under my nose. You might have even gotten away with it (if it weren't for you meddling kids…sorry, the Scooby-Doo reference was too juicy to pass up there) scott-free but you made one mistake. You brought the set of "Romper Room" to life at a totally unacceptable place and I caught you!
This is something that has bothered me in the past, but I've never seen it in quite the magnitude that I saw yesterday. As I sit and attempt to enjoy a couple of beers and watch the basketball game, children from the ages of 4-8 saddle up next to me AT THE BAR to play the Megatouch machine. Literally three feet to my right, I endure the argument of "No, it's MY turn!" as you and your colleagues party like it's 1999. I have no issues with you choppin' it up on a Sunday afternoon. That is every adult's legal right as an American. However, you've somehow managed to scew the line between beer swillin' American and responsible parent, when it comes to your choice of venue. And that's where we come to a situation.
Allow me to give you some examples of good places for kids and bad places:
Good!
Great!
AWESOME!!!
BAD!!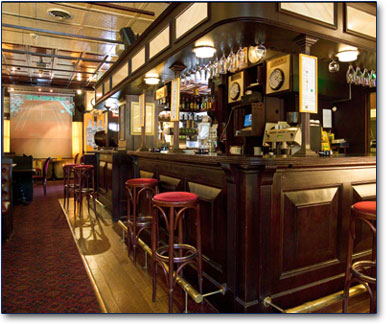 TERRIBLE!!!!
The thing about the places that I've marked, as possibly less than appropriate, is that your kids don't want to be there either. And you know what's awesome about the places in the second and third pictures? They serve beer and wine!! This is what is known as a "win-win situation!" You can sit around with your friends, shoot the breeze, maybe have a little friendly competition, responsibly/moderately enjoy a couple of adult beverages and let the little ones go completely apeshit without them being a massive disturbance to you and every other adult in a 20-foot radius! How exciting is THAT?!
Tables, food, games and no smoking do not necessarily constitute a family friendly environment. Casinos and strip clubs could fall into the description above, but you wouldn't take your kids there, unless you're completely unfit to be in charge of a developing life. Not only is your choice of setting a bad representation on you (we are ALL silently judging you), but it's also just flat-out inconsiderate. Not just to your kids who, as I said before, do NOT want to be there, but also to everyone else who has to deal with the clamor that is uniquely provided by the undeveloped motor-skills and voices of small children. Please, spare us and yourselves. Make a better choice of locale, get a sitter or stay home. Once you become a parent, these become your choices.
Sincerely,
Jeremy T. Bennett
Mar 20
Dear parents who put their kids on leashes,
Look at it. LOOK!! LOOK GODDAMMIT!!! 
Is this some kind of joke? It has to be, right? I would ask what's wrong with you, but I already know the answer. YOU are a bad parent, and an all around bad person. YOU, instead of being a good, responsible and attentive parent, have decided to treat your child like something you bought from Petland.
There are times where it is acceptable to see a human being (your child IS one of those) in a harness. Bungee jumping, rock climbing, skydiving and doing some kind of wire stuntwork, to name a few. Did you happen to notice what is missing from that list? There are a couple things. First of all, these are all adult, voluntary things. Secondly, I didn't mention a stroll through the mall, grocery store or park. Because "you can't and/or are too lazy to control your child(ren)" will not be showing up on the shortlist of pro-harness arguments. From anyone.
How did the decision to tether your offspring ever sound like a good idea? If you saw someone at the mall and thought "Hmm. That looks like a GREAT idea!" you are in desperate need of electro-shock treatment. If you would've looked around at the others in the area, you would've seen a look of complete disgust/rage on their faces. Instead, all you could think was "CHILD LEASH!! Why didn't I think of that? All this time I've been trying to train my son to be a well behaved member of society, and I could've just been tying a rope around his neck! Boy, was I wasting my fucking time." Which one did you get? Is it the one that looks like a phone cord or is it more like a nylon, and I can't stress the next word enough, DOG leash? Dog leash. Dog LEASH. DOG LEASH!! DOG!!! LEASH!!! DOG!!!!!
I'm not a parent, but I feel like one of the rewards of parenthood would be teaching your child how to behave, succeeding, and taking them places to show others how well behaved they are. It's a great reflection on you and the little one. People think "Wow! What a great mom/dad." However, when they see you one plastic poop-bag short of an all out "walk" situation, they'd like to strike you in the throat with a knife-edge chop and call child services. So, get your kid off the fucking leash. For the love of God, you have to be able to take a step back, think rationally, see exactly what you're doing and realize how fucked up it is. You HAVE to! If you're not able to do that, please, the next time you use the leash…hang yourself with it. You'll be doing yourself, and everyone around you, a tremendous favor.
Sincerely,
Jeremy T. Bennett
Mar 18
Dear Tiger Woods haters,
With one Eldrick "Tiger" Woods returning to the course, I believe the time has finally come to hold up a mirror to those of you who have condemned this man.
For those of you who don't really have an interest in golf at all, but have STILL watched and gotten any amount of enjoyment out of it in the last 13-14 years, that's because of Tiger Woods. I know that because the insane influx of money and viewership into golf, was right on time with the arrival of Tiger. Believe me. No one, except true golf fans, want to watch the likes of Ernie Els, Bubba Watson and Lee Westwood duke it out. And even some of the real fans (including me) aren't really watching that either. The loss of a superstar the likes of Tiger, in a game like golf, sets the sport back to the days of your childhood, where your dad would be watching and all you could think is "SHUT THAT SHIT OFF AND PUT ON SOME TOM & FUCKING JERRY!!"
Secondly, for those of you who have started watching AND even started PLAYING in the last 13-14 years, that is almost certainly because of Tiger Woods! Since 1996 the game of golf has grown from an old, stuffy, white-man, country club game, to a bonafide sport that anyone, of any size, shape, creed, age and color can play. You'll find the weekend hackers at courses all over the United States throughout the year. You'll find mothers and fathers spending six hours with their children on a Saturday afternoon. They stroll down the fairway with smiles on their faces as they enjoy the combination of nature and challenge that only golf can offer. You see friends strengthening their bonds of brotherhood, just by chasing a little white ball. Why do they do this? Why put yourself through the frustration that also comes with golf? So, just for a moment, when you hit that perfect shot, YOU can be Tiger Woods. You can know what it feels like to do something absolutely perfectly, even though you're far from perfect. Despite all your troubles outside of the rolling green fairways, for just one solitary moment, you know you could've just hung with the best in the world. You stand there, watch your ball seemingly be carried by angels through the air and feel a grin creep across your lips uncontrollably. As you high-five the others in your group, you hear the roar of the crowd in your head. For ten seconds, life is as pure and perfect as can be achieved…..BUT then you ran over a dog on your way home and now everyone hates you!!!
Which brings me to you. For those of you who have never made a mistake…oh, wait…you don't exist. Since this entire saga began, I've watched as one of the (not arguably at all) most dominant and beloved athletes of this or any generation, be chopped down by the media and downright haters like yourself. Why? Is it because he's not as perfect as we all thought he was? OR, is it because you're jealous that you don't have the incredible skill, success and bajillions (NOT pronounced 'bahillions', for those of you who may speak Spanish) of dollars that he has? It might not be either of those reasons, but I know it's not because he cheated on his wife either. If you had a best friend or family member that cheated on his OR HER (Talking to you, ladies! You've all acted VERY innocent with this entire subject of cheating and I'm calling you on it!) spouse, I highly doubt you'd up and disown that person. You'd be upset. You might even be angry. You might even stop talking to them for a while. What you would NOT do is call their apology bullshit, after demanding it. And you would not treat them as though they went into a hospital and started eating live newborns while punching leukemia sufferers in their throats. It's time to take off the white wig, people. Put down your stones and step on out of that glass house. Remember that no one is perfect and worry more about improving yourself. Everyone screws up and, most importantly, everyone deserves a second chance. Now, go play whatever it is you're good at, have that one perfect moment, close your eyes and listen to the crowd go berzerk. We ALL deserve that.
Sincerely,
Jeremy T. Bennett